Powder coating in Guntramsdorf
for surface refinement
Highest know-how in coating technology – this is what WK Pulverbeschichtung stands for! Powder coating is our core competence. It represents an effective and efficient process for refining and protecting metallic surfaces. Typical substrates for powder coating are:
aluminium
steel
galvanised steel
However, in fact, all electrically conductive and 200 °C heat-resistant materials can be powder-coated at our facility in Guntramsdorf near Vienna.
The innovative coating techniques are used for a wide variety of products, such as:
facades
windows
furniture
car and motorcycle parts
Benefit from the advantages of professional powder coating
We can already look back on more than 20 years of experience in this field and during this time we have been able to acquire in-depth expertise in powder coating and surface technology. You benefit from the numerous advantages that coating your metals brings with it:
high mechanical resistance
decorative appearance
wide colour spectrum and various surface structures
good corrosion protection
the environmentally friendly and solvent-free coating
short lead times
cost-efficiency through automated processes
economical use of resources through energy recovery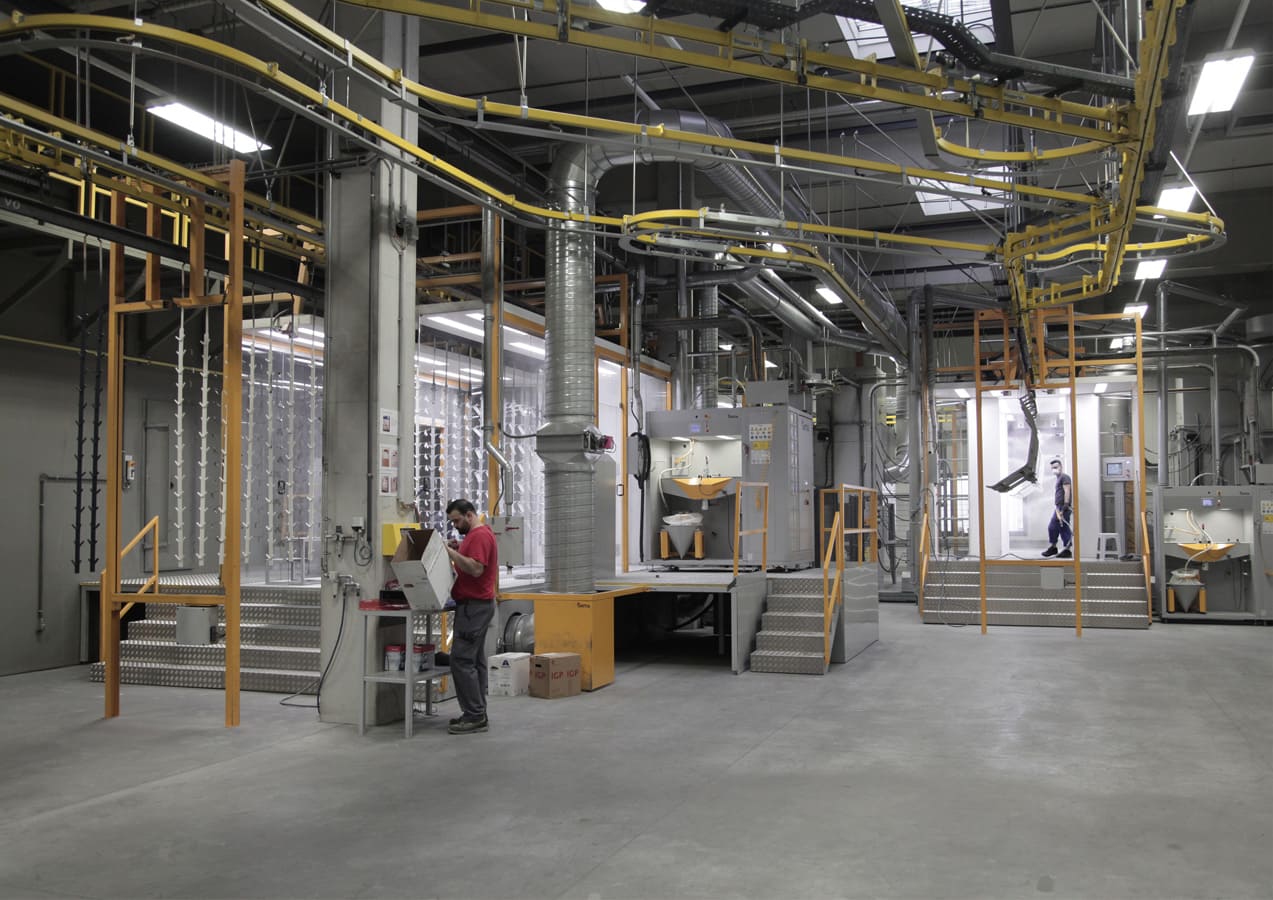 Puzzle coating metals – this is how it works
The coating process takes place in three main steps:
Pretreatment
The basis for a long-lasting coating is a chemical pre-treatment of the surface in pre-treatment lines with 5 zones in a spray process. An optimal adhesion base for the subsequent coating is created and the material is additionally protected against corrosion. The continuous monitoring and automatic control of essential process data ensures an optimal pre-treatment and thus guarantees a high-quality coating.
Powder application
This is followed by the actual coating process, in which a cloud of powder electrically charged by high voltage is generated by means of electrostatic pistols. The charged powder particles adhere to the workpiece surface and form the powder coating layer. WK Pulverbeschichtung has four modern powder coating cabins in use.
Baking process
To cross-link the powder coating, the workpieces are heated to approx. 180° C in a curing oven. This creates a resistant paint layer with a uniform flow.
After final quality controls (appearance, layer thickness, gloss level, etc.) the coated workpieces are packed for transport./p>
Surface finishing in high quality – get your offer now!
Are you interested in a high-quality surface coating? We would be pleased to discuss all possibilities with you and present our offer – contact our team in Guntramsdorf (Lower Austria)! Ask also about our offers in metal sheet processing by our partner company WK Blechtechnik and benefit from the advantages of sheet metal processing and coating technology under one roof!